❰ Reviews & Awards ❱
"Huge potential! 📈 Extremely young at the age of 3 but still producing pronounced aromas of plum, tobacco, chocolate, oak, blackcurrant, black cherry, pepper, dark chocolate, smoke, minerals, graphite, cassis, bell pepper & licorice. Outstanding red wine!"
- Balázs H.
"Already accessible Hungarian Bordeaux Blend encompassing blackcurrant, cherry, cocoa and coffee tones. Balanced and intense wine. There are still mild green tones that are likely to disappear with bottle aging, it clearly has years ahead!"
- VINOHOLIC
"Excellent wine. Very nice as is. Tannins are a little on the high end, will definitely improve with time. A keeper!"
- Marc N.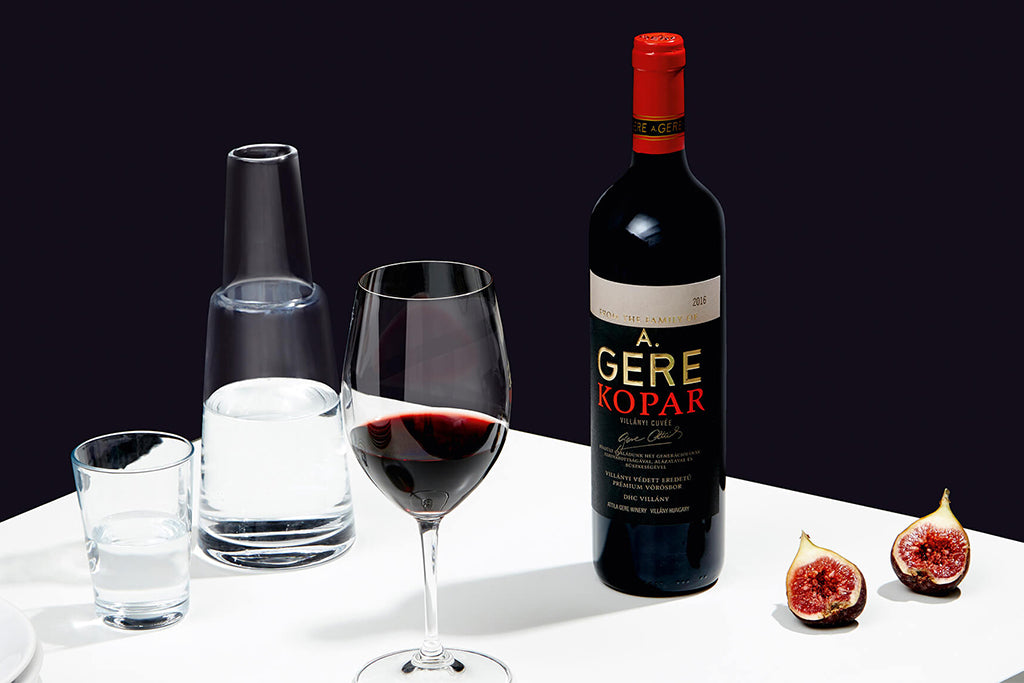 The 'Bor'
Deep and ripe notes in its scent, led by black and red berries, followed by a harmony of nicely integrated barrel spices and minerality.

In the forefront there is well and over-ripened fruitiness, nicely supplemented by the notes of barrel and bottle aging. Lively, round and vibrant when tasting.

Pleasant acids, ripe tannins, red and blackcurrant, blackberry, plum and barrel spices give nice complexity to the wine.

A serious item promising a great future.

❰ Grape Varietal ❱
🍇
「 Bordeaux Blend 」

50% Cabernet Franc
40% Merlot
10% Cabernet Sauvignon
Drink now or hold - HUGE potential for ageing.

❰ "SATAB" ❱
Sweetness:
Dry
Acidity:
●●●●
Tannin:
●●●●
Alcohol:
14.5
Body:
Full


❰ Food Pairing ❱
Great wines deserve to be paired with great food. If you're hosting a dinner or having a party, pair the Kopar with a nicely grilled medium-rare steak, lamb chops or venison seasoned simply with olive oil, salt & pepper.

Beef
Lamb
Red Meats

❰ Gere Winery ❱
The history of the Gere Attila Winery started 7 generations ago and the business, just like before, is run by all members of the family.

Respect for the soil, proper selection of varietals & technical precision in the cellar have all contributed to preserving and expressing the aromas and flavours true to Villány.

Attila Gere has taken it one step further by only using locally selected, indigenous yeast strains for the fermentation process.

This contributes to the character of their natural, individual, terroir-driven estate wines and we at The Wine Key are proud to be able to share these wines with you!
Discover more about Gere