❰ Reviews & Awards ❱
"Very good red wine! Lighter bodied Syrah, acids will keep it for a few more years."
- Balázs H.
"Very nice stable scent, quite spicy like pepper and nutmeg. Taste is getting richer by the temperature. Deep fruits are present mostly blackberry. Definitely good choice to make a good impress during a thick dinner of duck or game!"
- Viktor R.
"Rich but shy aroma, after a little airing, there is plum and other black fruits and a bit of oak. Palate is silky, full and a bit spicy in the end."
- Greg K.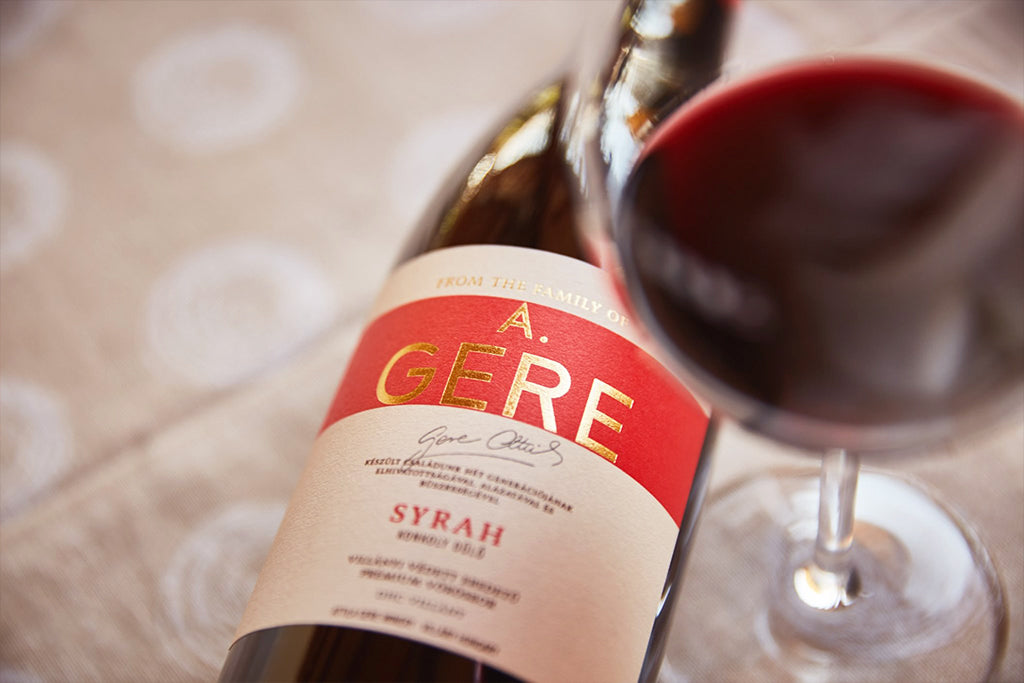 The 'Bor'
A colour of dark ruby red with purple reflexes.

The nose displays forest fruit, strawberries, black pepper and oak spice. On the palate one finds darker fruit like black currants and black cherries accompanied by discreet black pepper notes.

Soft tannins and gentle acidity complement the rich fruit. Overall, compared to previous vintages the 2018 Syrah is more vigorous and also more inviting.


❰ "SATAB" ❱
Sweetness:
Dry
Acidity:
●●●○
Tannin:
●●●○
Alcohol:
14.0
Body:
Full


❰ Gere Winery ❱
The history of the Gere Attila Winery started 7 generations ago and the business, just like before, is run by all members of the family.

Respect for the soil, proper selection of varietals & technical precision in the cellar have all contributed to preserving and expressing the aromas and flavours true to Villány.

Attila Gere has taken it one step further by only using locally selected, indigenous yeast strains for the fermentation process.

This contributes to the character of their natural, individual, terroir-driven estate wines and we at The Wine Key are proud to be able to share these wines with you!
Discover more about Gere